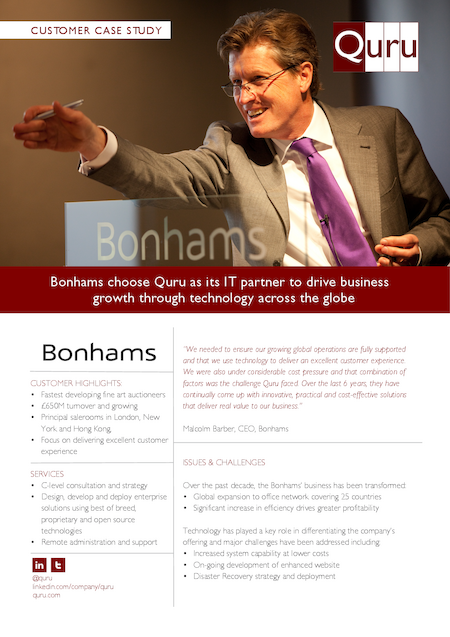 The Quru approach
The Quru approach is business led and we develop and deploy integrated best-of-breed proprietary and open source solutions that support our clients' ambitions and objectives. Technology systems, in particular ERP, should be tailored to the business processes that enable the organisation to deliver market leading service to its various customer types – internal, end-users, partners.
Our aim is to ensure that IT enables the building of strong, long term customer relationships that generate repeat business and recommendations.
Working in partnership with Bonhams
In 2007 Bonhams decided to consolidate its global outsourcing contract with Quru. It operates with a minimal IT function and the two companies take a partnership approach to their joint work.
Driving all of Quru's work is an understanding that technology developments must support 4 key aims: • Enhanced customer experience • Capability to accelerate business growth • Reduction in operating costs • No increase in headcount
Bonhams does not have a board member responsible for IT / technology. Instead, Bonhams' C-level executives rely on Quru for advice, direction and the implementation of its IT strategy.
"We needed to ensure our growing global operations are fully supported and that we use technology to deliver an excellent customer experience. We were also under considerable cost pressure and that combination of factors was the challenge Quru faced. Over the last 6 years, they have continually come up with innovative, practical and cost-effective solutions that deliver real value to our business."
Malcolm Barber, Co-chairman - Bonhams