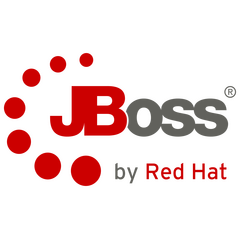 https://www.redhat.com/jboss
Red Hat JBoss Enterprise Application Platform
The Red Hat JBoss platforms provide the tools needed to rapidly build connected systems that bring people, processes, and information together, thereby transforming a costly, hard-to-manage application infrastructure into one that is truly dynamic across multiple environments.
The portfolio of platforms within Red Hat JBoss enable rapid development and deployment of applications in any environment. It includes an open source web server with enterprise level features; the capability to connect different applications; integration of applications, data and devices and the ability to incorporate sophisticated decision logic into line-of-business applications and quickly update business rules as market conditions change.
Brilliant middleware
Red Hat JBoss middleware is a brilliant piece of technology that solve many of the challenges that organisations face in their application development environments. We utilise JBoss enterprise application platform to build great Java applications.
Quru